THE WORLD OF TABLE FOOTBALL & SUBBUTEO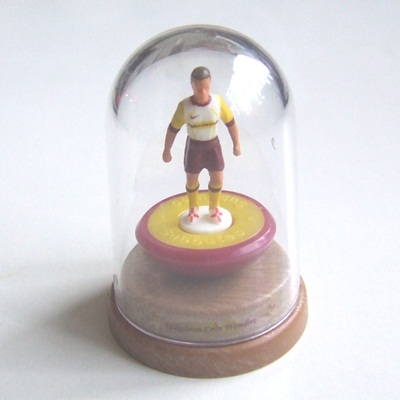 LITTLE PLASTIC ANDERSON
IN ALL HIS GLORY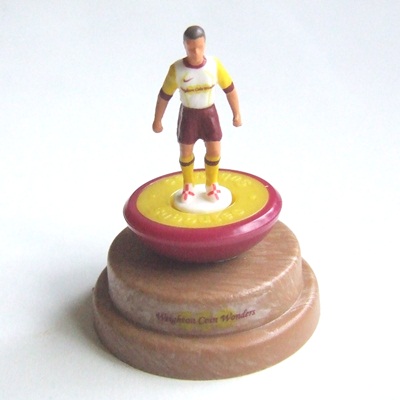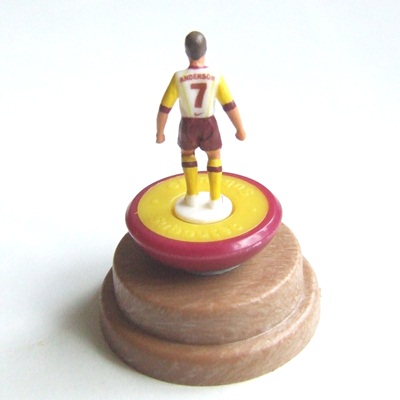 OBVERSE REVERSE
I re-discovered the collectable world of Table Football & Subbuteo at the age of 40 something.
I grew up in the era of this 'young boys' game, but since then like a lot of us, have never really thought about it since. My 're-introduction' to this world came about through some email 'banter' with one of our clients, through which I learned that this 'world' was still very much in existence. Our client kindly stated that if they got some time, they would provide me with my very own 'Little Plastic Man'. Upon this kind offer, all I said was "yes it would be good to see him in the Weighton Coin Wonders corporate colours" (Dark Red & Yellow for those who are not sure). I then never really thought about it again until I was informed that "my very own little plastic man" was on it's way to me.
Now how skilful is this ?
Well he duly arrived within a day or so, and I have to say I was just 'blown away'. Just look at the detail - not only were the corporate colours accurate, but he came resplendent with full company logo on the front of his shirt, and my own name with the revered number 7 (Beckham - or if you are from my era - Kevin Keegan) on the reverse. 'Little Plastic Anderson' (as he has become affectionately known) is also adorned with the famous Beckham Boots'.
How on earth can so much detail be achieved on such a small figure ?
Apparently, this is done via a mixture of print transfer and individual hand painting. Although I do not know exactly what it takes to produce these great little figures, all I can say is that somebody must have an enormous amount of patience and a superb eye for detail.
And so, with many thanks and much appreciation, the World of Numismatics can now lay claim to having it's very own football team - what else but:
WEIGHTON WONDERERS
The World of SUBBUTEO
Since acquiring my 'Little Plastic Anderson' on a specially negotiated transfer deal !, I have come to learn there is a whole world of Table Football / Subbuteo out there, and there are enthusiasts and collectors for both these modern editions, and vintage editions of the originals series of teams, equipment and memorabilia. Want to know more ?
Then visit the establishment that created 'Little Plastic Anderson' at:

50 Market Place, Market Weighton, YORK. YO43 3AL
Please feel free also to phone on
01430 879740 / 07905 467650
or email to enquiries@weightoncoin.co.uk
We can then assist you in person - ask for Richard